This workshop has been postponed due to the coronavirus pandemic in Trinidad and Tobago.
We will announce a new date, as the situation evolves and it is safer to congregate. Feel free to contact us, if you have any questions.
 Mastering Presentations & Public Speaking
$2,800; training materials, meals + a certificate of participation included. Group discounts available.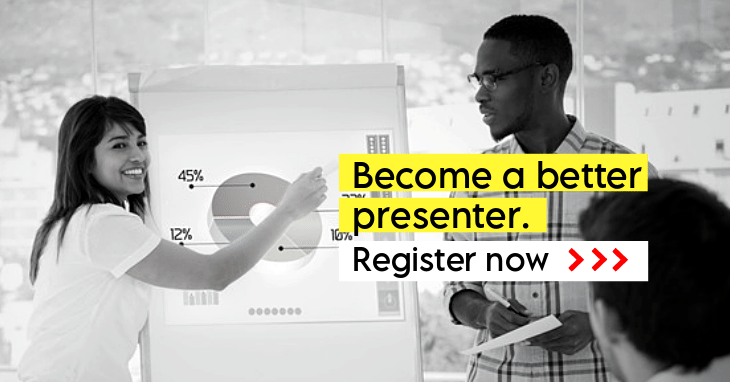 Nervous about talking to
6 or 70 people?
What about 500?
Tell us…
What's your challenge?
Confidence?

Intimidated by senior execs in meetings?

Afraid someone will poke holes in your presentation?
Get the tips + techniques that effective speakers use to deliver powerful presentations in any setting…
Don't wait to be embarrassed, or lose opportunities because of poor presentation skills.
Improve your skills now + learn how to become a powerful presenter.
Most workshops only deal with the superficial aspects of public speaking. But you want to score real business wins for your organisation. That's why we go deep.
You'll learn how to:
manage your nerves
sell your ideas
engage audiences effectively
improve your content, delivery, and visuals.
structure strategic business pitches.
design sleek PowerPoint presentations.
navigate a range of public speaking settings… and much more!
You'll be on your feet – delivering presentations, and getting individual feedback.
This workshop gives you practical insights about how you can:
leverage your natural strengths

craft strategic presentations

apply public speaking strategy.
Learn how to deliver powerful presentations – whether you're an introvert or extrovert. 
We'll give you holistic + practical insights.
And we'll work one-on-one with you to transform you into a confident, convincing presenter.
Who should attend?
– Mid-level professionals.
– Managers.
– Senior executives.
– Anyone who has to deliver presentations to colleagues and clients.
TESTIMONIALS
See what past attendees say…
"My presentation designs and skills improved 10x in just two days. Before I used to speak quickly and sound monotonous. With this training, I learned to speak slower and clearer, to vary my pace, and to communicate well with people.
My confidence levels have increased drastically, and I actually now look forward to preparing and delivering presentations. Karel's approach to the training was refreshing and honest. She did a fantastic job and I can't wait to work with her again."
Amar Seechan
Manager, Finance | Angostura Limited
"While I have practical experience and formal training in public speaking, this was a few years ago and I thought it prudent to update my skills…The training was practical and fun, and I learnt how to improve my technique, style, and effectiveness as a public speaker. It was well worth my time."
Dexter Charles
Senior Manager, Group Corporate Communications | First Citizens
"The workshop was very interactive, practical, and full of energy. I liked the fact that the size of the workshop was manageable, allowing individual attention."
Nicelle La Pierre
Senior Group Accountant | ANSA McAL
"Karel is a wonderful presenter.
What I liked most about her techniques was that Karel has the natural ability to make what may appear to be a difficult concept very easy to understand. She has a lot of energy, and is able to engage with her audience quite easily."
Audra Mitchell  
Group Manager – Learning & Development | Massy Limited
Meet Your Coach: Karel Mc Intosh, MSc (Distinction)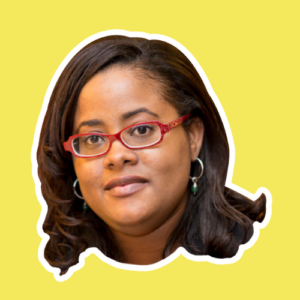 Karel Mc Intosh is the Director of Training & Marketing at Livewired Group, where she translates her 16 years of experience into practical tools and techniques to help professionals navigate high-stakes business communication and marketing.
She has worked with over 50 of Trinidad and Tobago's top organisations to train and empower their staff to be more skilful and effective communicators. Past and present clients include First Citizens, Massy (Trinidad, Barbados, and Guyana), ANSA McAL, Republic Bank, The National Gas Company of T&T (NGC), the Central Bank of Trinidad and Tobago, Pepsi-Cola, and The University of the West Indies.
An experienced speaker, Karel has been featured at events like the US Embassy & Caribbean Public Health Agency Zika Tech Camp (Barbados), the 10th Caribbean Conference on Comprehensive Disaster Management (Bahamas), iGovTT's National ICT Symposium (Trinidad), and the 6th Regional Platform for Disaster Risk Reduction in the Americas Conference (Colombia).
Karel holds an MSc in Corporate Communication (Distinction) from Thames Valley University (UK).
"I had several "a-ha" moments throughout the two days… 
The workshop equipped me with the tools, and – more importantly – the confidence, to speak publicly in a variety of forums and I can't wait to put what I've learned into practice!"
McKeda McKenzie
Senior HR Professional | Government Human Resource Services
"I gained valuable insights into my strengths and developmental areas, and I have gained confidence in my ability to deliver impactful presentations and public talks.
Livewired Group's training has taught me to be more strategic in design and preparation and more relaxed in delivery. What I liked most about the training was the high energy, engaging facilitation, and group interaction."
Darren Farfan
Manager |  KPMG
"The workshop really nurtured my confidence, and improved my ability to organise my speaking points, and be more engaging.
I enjoyed Karel's no-nonsense approach and honesty. It is closer to the real-world setting, and does not sugarcoat or give a false sense of security—Karel's approach is geared to really bring out your inner abilities, and this is refreshing."
Cheyenne Baptiste
Social Media & Communications Officer  | PSI Caribbean
"Karel's warm and friendly demeanour allowed me to be open about the areas for improvement in my presentation skills. The sessions while comprehensive, interactive and fun. She kept us fully engaged and before you knew it, the day was through. Without a doubt, I will recommend the Livewired Group to anyone looking to improve and enhance their skills in public speaking and presenting."
Sanjiva Glynn 
Credit Analyst | Angostura Limited
"The training was the perfect blend of practical and theory. What benefitted me the most was learning new ways to improve PowerPoint presentations, and using techniques to become comfortable on stage and reduce nervousness."
Shaun Waldron
Manager, Credit & Business Development | EXIMBANK
"I learned how to be more confident in speaking in front of an audience, contribute more in meetings, use PowerPoint effectively, and get my points across without fumbling my words. Karel is very relatable. Her knowledge of everyday topics and pop culture references used to get her points across held me from the onset. I've already recommended Livewired's training to colleagues."
Ashad Mohammed
Project Lead – IT & Process Improvement | Guardian Group
"This is one of those training experiences that I will never forget. Those two days have literally shaken everything that I thought I knew about 'good presentations' and provided me with so many TIPS and TOOLS that can be adapted to any presentation. I enjoyed it, I learned a lot from it, and I would recommend it to anyone who wants to be an awesome presenter."
Seanna Annisette
Public Education & Communications Officer  |  Caribbean Court of Justice
"The exposure to different presentation styles and scenarios, as well as review of proper technique and preparation, has helped me improve my approach to presentations and hosting events. My confidence has grown."
Irvin Rosales
Group IT Projects Manager  | ANSA McAL
Want us to deliver this programme in-house?
Make it happen. Call 749-6027.