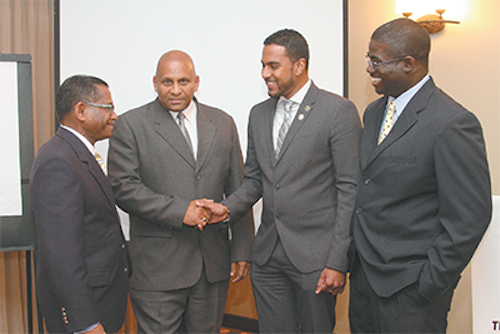 Human resource professionals got an earful of information and strategic direction at the Human Resource Management Association of Trinidad and Tobago's (HRMATT) seminar – "Compensating in a Tough Economy" – on November 6, 2015.
Participants got comprehensive advice from industry experts, Hollick Rajkumar – Managing Director of HRC Associates Limited, Shermarke Howard – Compensation specialist and Manager at Pricewaterhouse Coopers Advisory Services Limited, and Conrad Enill – Founder of Connill Consulting Group, and former Trinidad and Tobago Minister of Energy, and Minister in the Ministry of Finance.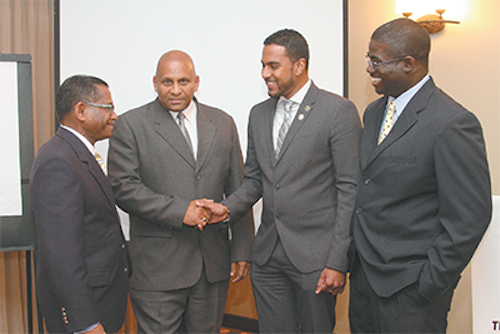 L to R: Hollick Rajkumar (HRC Associates), Conrad Enill (Consultant), Nigel Marquez (HRMATT President), and Shermarke Howard of Pricewaterhouse Coopers.
Compensation was the main topic, but the panel also gave stimulating discussions about strategic HR, and called on HR professionals to rise above routine, tactical work, and do strategic work that gives them a spot at the decision-making table.
Here are some of the key takeaways from the seminar:
1. Get at the table. Many HR professionals are not included at the decision-making table. CEOs and CFOs tend to be the ones making key decisions about compensation and cost cutting in HR matters. Human resource managers need to build their influence and value in organisations, so that they are included in key decision-making.
2. Communicate clearly and frequently. When employees are left in the dark, they become demotivated and trust erodes. Be transparent when communicating when employees, so people know the stakes.
3. Increase face-to-face discussions with employees.
4. Top talent is mobile. Identify and retain the superstars in your company, and treat them well – but not at the expense of other employees. In other words, don't spoil your favourite child.
5. Speak to your CEO. Create unstructured interventions with decision makers. We often wait to speak to decision makers in meetings, but speaking to them outside of official meetings helps as well.
6. HR has to look at the numbers. They have to know the business, financial data, and employee data and trends to make decisions and predict potential issues or opportunities. Numbers tell stories. Find your company's story in the numbers.
7. HR people should also see themselves as entrepreneurs – HR entrepreneurs.
8. Move from being lords in the organisations to being trustees' of employees' future.
9. Reassess traditional approaches and set some new rules for how HR operates.
10. Use HR tech to help decrease daily administrative tasks to create more time to do strategic work.
Photo credit: Sean Nero, Trinidad Guardian.