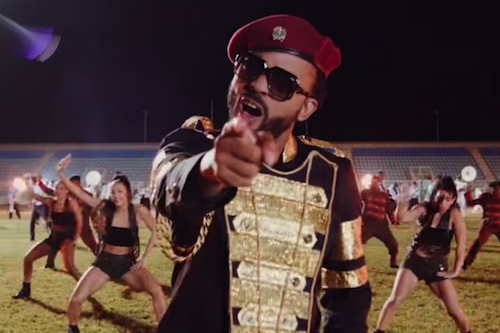 Like him or not, Machel Montano has maintained a grip on Soca lovers, because he's consistent with delivering exhilarating performances.
I love watching entertainers perform, because they give you ideas about how to engage audiences for presentations. Obviously, you won't wine in a business pitch, or you could, if you're awarded the contract right there and then 😉
However, there are some key engagement techniques from Machel's Soca Monarch 2015, winning performance of "Like Ah Boss" (below) that you can apply to presentations and public speaking.
What are they? He:
1. Makes full use of the stage.
Don't just stand in one spot. Even if you're nervous, force your feet to move. Don't pace around nervously, but be sure to show people that you're paying attention to everyone.
2. Hypes the crowd.
When it counts, you know you can't depend on the crowd to get hyped. You have to hype your audience to boost your energy.
3. Doesn't let his props, dancers, etc., overshadow him.
He's always the main attraction of the performance. Never let your props take the attention away from you.
4. Adds nostalgia to the mix.
When he brings in the steelpan segment and ole-time dance, it's a nostalgic moment that appeals to lovers of old kaiso and fast-paced Soca alike. Always add something that can appeal to everyone's emotions. Nostalgia is a nice touch. Depending on who your audience is, figure out that one emotion to play on.
5. Creates a magical moment.
When he tells one part of the crowd to sing a part of the brass section, and the other side to respond, it's pure engagement magic.
Depending on the type of presentation you have to give, think of some call and answer scenarios you can use to engage your audience. Remember when Obama used "Yes you can!"? That's one of the ways you can apply this method.
6. Ends with vibes.
He lets the audience know that he's only got one minute and 21 seconds left. What does that mean? That's a cue for the audience to derive full enjoyment in that remaining time.
You always have to end your presentation strong, and a huge part of this is how you make the audience feel at the end. Aim for positive emotions, so they walk away raving about you.
Think you can apply these? What other aspects of Machel's performance techniques do you think can work for public speaking?
Want to improve your public speaking skills? Join us March 25-26 at Queen's Hall for "Mastering Presentations & Public Speaking". Download a brochure >>
Main image via caribbean360.com